Beale Street is known for the LIVE music and drinking on the streets (mini Bourbon St).  You can tour the Withers Collection Museum see displays of the civil rights movement, music history and sports history. If that is not enough, then you can just party in the streets with the soulful bands playing at the W.C. Handy Park.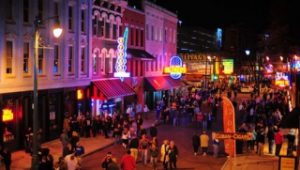 Offer
Hop Pricing
Bus Arrival Times
3rd and Beale
Memphis, TN
Memphis Hop
P  901.577.5467   F  901-522-8492
E  info@memphishop.com
Copyright © 2013-2017 Memphis Hop. All Rights Reserved.
THE TOUR | VENUES | ABOUT | BUY TICKETS
Hours/Days of Operation
664 Marshall Ave Memphis, TN 38103 – 1 block west of Sun Studio
Ticket Booth (2nd & Beale Street) Next to Hard Rock Cafe
Operating Days (subject to change) – Wednesday-Saturday 10am-5:00pm